Vietnam's export structure shifts vigorously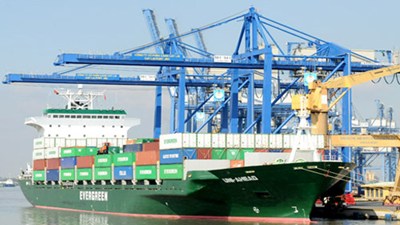 Vietnam has witnessed a relative export expansion in both scale and speed, and seen a positive shift in export structure, helping develop the scale and growth rate of export.
Total export turnover touched approximately 108 billion USD in the past 10 months, higher than the annual figure of the years prior to 2011, the Vietnam Government Portal reported quoting sources from the General Statistics Office (GSO).
The figure was estimated at 131 billion USD for 2013, soaring 14.4 percent against last year, it said, adding that export has demonstrated itself as an outstanding field, a momentum and a gateway for the economy.
Export turnover of raw materials declined by over a third in 2005-2010, according to the GSO. Specifically, crude oil export fell from around 18 million tonnes in 2005 to 9.25 million in 2012 (50 percent) and over 5.94 million in the first 10 months of 2013. Coal export dropped to over 9.8 million tonnes in January-October in 2013 from 32.1 million in 2007 and 15.2 million in 2012.
According to initial statistics, export turnover of raw materials and primary commodities stood at 32.1 billion USD in the first 10 months of 2013, representing almost 30 percent of export revenue, down around 4.5 percent against the same period last year.
Especially, coal witnessed the sharpest decline of 29.1 percent; followed by coffee 23.9 percent; rice 16.9 percent; crude oil 14.2 percent; and rubber 13.7 percent.
Meanwhile, export of processed products valued around 75.9 billion USD, occupying over 70 percent of total export revenue and surging 26.3 percent against the same period last year.
Overseas shipments of telephones and spare parts, computers, chemicals, suitcases, umbrellas, garments and textiles, and footwear were higher than the general growth rate of 15.2 percent.
Of the products, high-tech commodities gained higher growth rate and made up a considerable proportion. The group of product earned over 35.44 billion USD, making up 32.8 percent of total export revenue and picking up 44.2 percent against the same period last year.
The foreign direct investment sector contributed greatly to the shift in export line structure as they mainly operate in high-tech and processing industries.
Experts suggested the domestic sector seize the opportunities and accelerate the development of the support industries in order to generate more jobs and reduce heavy reliance on imports.
Source VNA