Vietnam seaports attract investment from major firms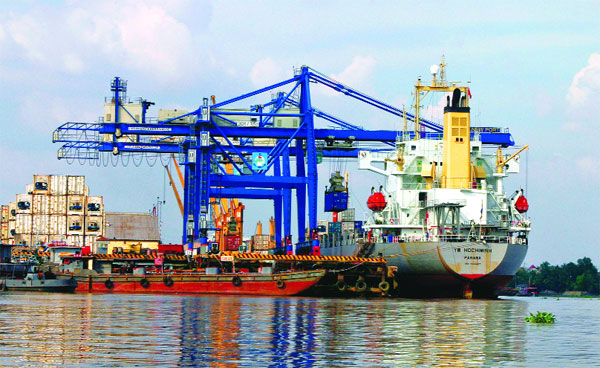 Last year the State-owned port's pre-tax profit was VND79 billion (US$3.64 million) on consolidated turnover of VND1.073 trillion (US$49.45 million).
After equitisation, the Government will retain 64% of its estimated capital of VND2.162 trillion (US$98.9 million).
The IPO will see more than 35.7 million shares with the starting price of VND11,500 sold, equivalent to 16.51% of registered capital.
Saigon Port plans to sell another 16.5% to strategic partners, but three investors have registered to buy a combined 102% stake.
Many ports have become attractive for major private investors, even as the Government and Ministry of Transport want to reduce State ownership in seaports to not more than 51%.
Five ports under the control of the Vietnam National Shipping Lines (Vinalines) launched IPOs soon after the Government announced this policy.
The shares of Quang Ninh, Nha Trang, Danang, Haiphong, and Can Tho ports became red hot soon afterwards.
In a second IPO, Danang Seaport sold all 13.2 million shares to five private companies at a price of VND15,677, much higher than its minimum price of VND12,000.
The Oman Investment Fund and the T&T Group also want to buy stakes in Quang Ninh and Haiphong ports.
Vingroup has said it is ready to buy 80% of Haiphong and Saigon ports.
Last August Vinalines sold 8.5 million shares or 34.7% of Nha Trang Port to Vingroup.
Ha Tinh port reportedly attracted interest from 47 private companies who registered to buy more than 8.57 million shares, double the number planned, when it equitised in 2008.
The question is, why are private investors, including many who have nothing to do with the business, so interested in ports, even those that are not efficient?
Admittedly, cargo volumes are growing and the involvement of private investors in their management post-IPO means their revenues and profits are soaring.
However, their business is not the only attraction; most ports also enjoy prime locations and have large land parcels, which can be used to develop property projects.
Quang Ninh Port, for instance, a large port that can handle vessels of over 75,000 DWT, has four warehouses with a combined area of 10,700sq.m and a 142,000sq.m freight yard. On top of that, it is location in a prime place.
Not surprisingly, though the volume of cargo it handles has shrunk significantly in recent years due to various factors, many property developers are keen to get in.
Analysts are clear that the Government's policy of allowing the private sector to develop transport infrastructure like roads, airports and ports is the right one since public funds are limited.
But they warn that this should be carefully monitored to ensure public interest is safeguarded.
VNA
Source: vietnamnet.vn