Nghi Son Economic Zone to become multi-sector industrial area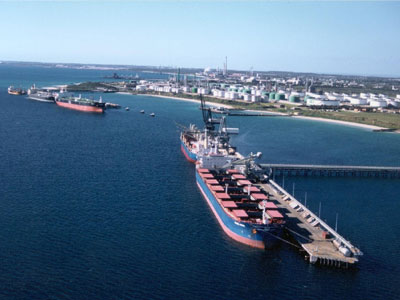 The Nghi Son Economic Zone (EZ) in central Thanh Hoa province is expected to become a multi-sector industrial area with a focus on refinery-petrochemical and basic industries in the near future.
As stipulated in a recent decision of Prime Minister Nguyen Tan Dung to amend the zone's operational regulations, basic industries to be fostered will include steel making, shipbuilding and repair, electricity, construction material production, consumer goods manufacturing and agro-forestry-fishery processing.
Nghi Son, currently spanning more than 18,610 hectares, will be expanded to cover 106,000 hectares, including 66,497 hectares on the mainland and island and 39,502 hectares of water surface.
The mainland and island area will be comprised of the entire Tinh Gia district, three communes of Nong Cong district and three communes of Nhu Thanh district.
As said in the decision, additional efforts must be made from now to 2025 to improve the EZ's business climate, implement key socio-economic infrastructure projects and attract more domestic and foreign investors.
Beyond 2025, the zone is hoped to see comprehensive development in industry, service, commercial, financial, cultural-social and tourism sectors while ensuring security and defence.
Green and modern urban areas will also be developed within the Nghi Son EZ.
The Nghi Son EZ, established in mid-2006, is about 200 kilometres to the south of the capital city of Hanoi. It is now home to 134 projects, including 124 domestic projects, with a total registered investment of VND96.9 trillion (US$4.5 billion).
In 2014, the zone attracted 41 new domestic projects with a total registered capital of over VND3.1 trillion (US$145.7 million), and three foreign-invested projects worth US$40.5 million. That same year, it generated VND18 trillion (US$846 million) in revenue and created jobs for around 63,000 people.
It also houses the Nghi Son seaport and the Nghi Son Oil Refinery and Petrochemical Complex – the largest of its kind in Southeast Asia and the biggest foreign direct investment project in Vietnam with a registered capital of more than US$9 billion.
VNA